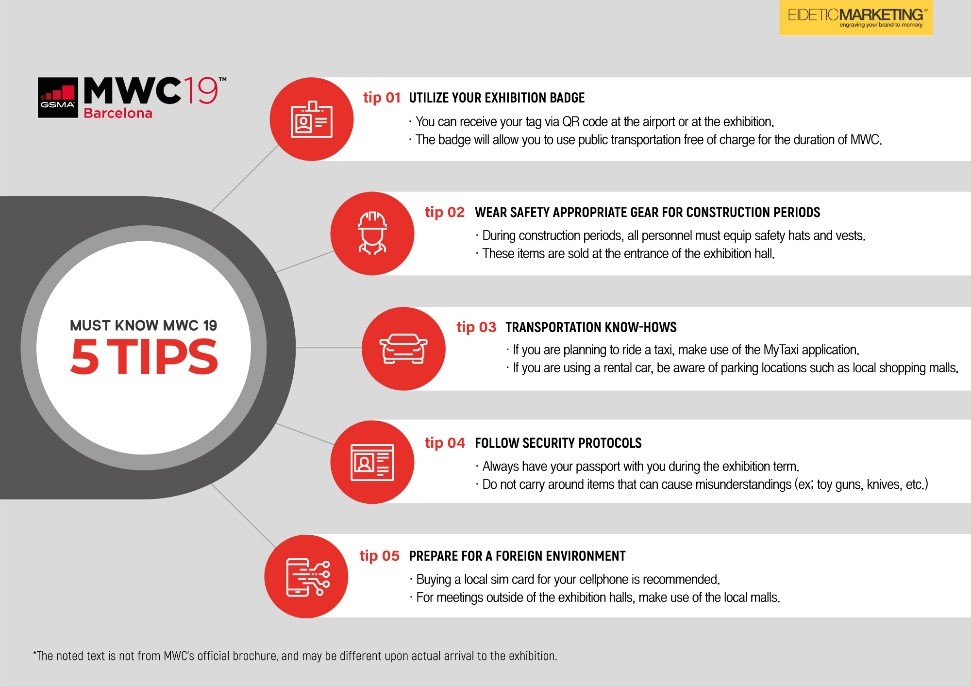 Along with CES and IFA, MWC (Mobile World Congress Barcelona) is one of the top 3 global IT/Wireless expositions. Over 2,100 global IT companies participate in the exhibition, including world renown brands like Google, Microsoft, Samsung, LG, Huawei and more. During 2018's MWC in February, there were more than 104 thousand participants, and this number continues to grow every following year. As the 4th quarter of the year is passing by, more clients are starting to have queries about the MWC. As an experiential global marketing agency that has participated in the MWC, Eidetic Marketing will offer 5 must know tips for MWC participants.
First, Utilize your Exhibition Badge.
As a top-tier global B2B Exhibition, entrance fees should be expected to be on a high price point. During the 2018 MWC, the lowest priority entrance ticket cost roughly $900. These entrance passes can be issued at not only the exhibition hall, but also the airport. You can seamlessly receive your pass by using the QR code that you were given upon purchase. With this pass, you can also use public transportation for free during the exhibition period.
Second, Wear Safety Appropriate Gear for Construction periods.
MWC is held in the 9 halls of Fira Barcelona Gran Via, a venue that is approximately 30 times the size of Korea's Coex. As renown as this venue is, the safety rules are strictly enforced. During construction periods, everyone involved is required to equip safety helmets and vests. However, there is no specified product or restriction on what type of equipment one is to wear. Therefore, it is possible to save money by procuring the products ahead of time. If you fail to bring your own equipment, you can also purchase the hats and vests at the exhibition hall, albeit for a higher price.
Third, Consider Transportation Methods.
Barcelona is Europe's top 6th visited destinations. The city gets especially more tourists in February and March for the duration of the MWC. Taxi drivers may not be well acquainted with speaking English, so you should have materials ready, such as a print out of your destination and address. Other than taxis, you can also opt to use personal carpool services called MyTaxi, Barcelona's equivalent to Uber. For those who choose to use rented cars, the driving is not as hectic as other European nations. However, during the MWC period, there are many patrol officers that focus on traffic violations. If you are caught by one of these officers, foreigners are charged 100 Euros on the spot. There are apt parking spaces in the exhibition venue itself. However, depending on the hall, this may lead to long walking distances. Therefore, it is important to understand the area and choose a parking lot accordingly. The nearby shopping mall, Gran Via 2 is an option that offers free parking on Sundays.
Fourth, Follow Security Protocols.
After 2014, Europe became more conscious of possible terrorist threats. The MWC period, in which more than 100 thousand people gather together is a time when security protocols are strictly enforced. Individuals should have their passport on their person at all times as a form of identification. Upon entry into the venue, all participants and their luggage are searched through by security officers. All boxes, bags or enclosed luggage must be opened for inspection. Visitors should also not carry any items that can cause misunderstandings (for example, toy guns or knives, etc). Through the MyMWC application, one can use their digital exhibition badge as a form of identification as well. However, due to possible issues due to hall entrance or security personnel, visitors should have their passports as a failsafe id.
Fifth, Prepare for a Foreign Environment.
Spain is a country that is not very familiar with the English language. It is recommended that participants learn basic Spanish before the exhibition. For exhibitors who are expected to need telecommunication services during the period should consider buying a local sim card beforehand. This option is more comfortable than wifi and can be purchased upon arrival at the airport. Vodafone is the recommended brand for Europe. MWC's venue, Fira Barcelona Gran Via, is grandiose and offers many pleasant areas for business meetings. If a meeting outside the exhibition hall is needed, the nearby shopping mall, Gran Via 2, also offers plenty of stores and cafes to engage partners or clients.
Eidetic Marketing is a global event & experiential marketing agency that is based off of its LA headquarters. It has multiple branches around the world in Korea and China as well. The company has experience participating in a multitude of global exhibition and events, such as MWC, CES, Gamescom, E3, and many more. Encompassing a wide portfolio and a plethora of world renowned clients such as Samsung, LG, Tencent, Google, etc., Eidetic Marketing has successfully provided total marketing solutions on a global scale. Eidetic Marketing's CEO, Ashley Jung, offered his insight via this article to assist other prospective marketers in understanding the MWC.
If you have any additional questions about the MWC, please contact info@eideticmarketing.comfor more information.